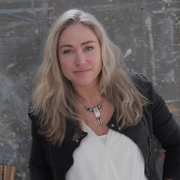 Sally Dominguez
Teleportec
Autonomous Vehicles | Design Thinking | Disruptive Innovation | Exponential Organizations | Exponential Thinking | Facilitator | Future Forecasting | Future of Learning | Future of Work | Leadership | Resilience | Smart Cities | Strategy | Sustainability Goals |
Sally Dominguez is a 10XInnovation Activator and Mindset Strategist.  As a multi-award-winning Inventor, Adventurer, Journalist and Educator, Sally has unique experience practicing, observing, teaching and advocating for innovation. Sally has updated Design Thinking with her ADVENTUROUS THINKING methodology, designed to promote the agile mindset needed for consistently innovative practices. Sally currently broadcasts a DAILY FUTURE video report with fellow futurist Mark Pesce.
As Innovation Strategy & Design Program Director as Singularity University Sally has designed and delivered programs to activate the Adventurous10X Mindset needed to flourish in the unrelenting change of the Fourth Revolution.  Sally is now on Faculty at Singularity, specializing in Resilience, Leadership, Smart Cities, Future Forecasting and the Future of Transport.  Sally also co-hosts TheNextBillionCars podcast , leveraging her Car of the Year expertise to comment on the future of transport.
ADVENTUROUS THINKING forces "bearable discomfort" thinking for a thriving 10X Mindset.  No longer is design thinking reactive.  Using the Five Lens tools to alternately converge and proliferate thinking, ADVENTUROUS THINKING enables users to think outside their default "expert" neural pathways, and re-ignite the curious mindset that is the key to consistent innovation.  ADVENTUROUS THINKING is the key to creating strategy for accelerating change, and results in growth: personal, professional and company-wide.
The ADVENTUROUS THINKING 10X Mindset strategy has been used internationally by numerous Fortune500 companies including Genentech, Caterpillar and P&G as well as NASA, the Shenzhen government, Australian education system, Dubai Tourism, Clif Bar, Breville and more.  ADVENTUROUS THINKING workshops run at Stanford, Start-se and Singularity and the strategy was presented as part of the SXSW Frugal Innovation panel in 2016.  Sally has taught ADVENTUROUS THINKING as a means to integrate innovation into the Australian school curriculum for the Association of Independent Schools and the Catholic Schools Office.
Sally's passion is "leveling up" human ingenuity by activating every persons' creative and innovative thinking potential.  In 2020 she will launch EPIC Resilience, a wellness program designed to ensure personal resilience in the face of unrelenting change.
Sample Topics

Adventurous 10X Mindset
Covers intro to Exponentials and the mindset needed for an exponential world, uses Adventurous Thinking lenses (Parkour for short talks, Parkour plus often ReThinking for longer) plus the Innovation Quadrant tool for mapping innovation. This talk not only describes the difference between linear and exponential thinking, it activates the 10X mindset using the extreme disruption lens of Parkour.
Workshop: Adventurous Thinking

Adventurous Thinking workshop: runs as a 2 x 5 hr at Stanford each semester (1 credit course) and tailors down to a 1 or even 1/2 day workshop depending on whether one wants overview, product pipeline development or other insights. Presents the Five Lenses which use the theory of multiple intelligences to provoke users into a state of bearable discomfort and enable them deeper understanding and insights into their issues, and a plethora of unexpected possibilities and solutions.
Supply Chain Rethink
The disruptions of COVID19 simply highlighted a meltdown of traditional supply chain norms that were already overdue. From the old school tracking and complex manual border systems to the aging energy grids and an over reliance on globalization and economics of scale versus more resilient decentralized or vertically integrated options, supply chain needs a fundamental rethink. The Fourth Revolution is transforming the world, delivering machine learning and exponential technologies that need to be met and harnessed with big, adventurous thinking and human creativity. Now is the time to consider every aspect of supply.

What assumptions are you making along your supply chain? Are these assumptions still relevant in the Fourth Revolution? What 10X technologies could transform aspects of your supply chain from energy source to packaging and distribution? What are the unexpected opportunities and partnerships presented by this era of disruption and change? Where can you find new growth?
Future of Mobility
Based on the NextBillionCars podcast interviews and research as well as my 10 years judging cars and researching design, sustainable materials and alternative energy drivetrains and trends. Why are we trending away from car ownership? is that trend a real reflection of the enduring expectation of families and older generations to own vehicles and fill them with stuff? Where does the WUN (Working Urban Nomad, a new growing demographic identified by me during my IKEA 2030 research) fit into cities? A talk looking at the less talked about bleeding edge human side of future vehicles and technologies.
Leadership in the Digital Age
Leading through transparency. Includes the CV of Failure exercise and how to model transparent leadership and incorporate failure into expectations and performance reviews.
Resilience
Resilience, a new one covering sustainable cities and resilience at personal and building level as a necessary future competency. Still working on this but its born of my IKEA 2030 research and my background as architect and designer of tiny houses, modular living and decentralized energy.