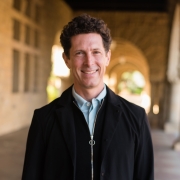 Chris Cowart
Teleportec
Design Thinking | Disruptive Innovation | Facilitator | Future Forecasting | Future of Food | Future of Sports | Strategy | Wellness
Chris Cowart is an engaging speaker, facilitator and thought leader who leverages design and strategic thinking to provoke teams and industries to accelerate change through innovation.
Chris has been a user experience, design, and product executive over the course of his career. He has worked across brands, innovation consulting, and venture communities for more than 25 years. He is currently the Chief Innovation & Strategy Officer at Treasure8, a food tech company leading a Resource Revolution® to bring disease-fighting, sustainable nutrition to a rapidly growing planet.
A formative part of his work experience includes 14 years at famed design and innovation consulting firm, IDEO. Here Chris pioneered the human factors and user research disciplines in the design industry, and launched many 'first of their categories' products for the company.
Chris fluidly spans the disciplines of user-centered design, product, partnerships, and business, and his continuous learning approach has allowed him to add new facets such as venture capital and future forecasting. As a thought leader on the future of sports and the future of medicine, Chris' speaking appearances and publications focus on the leading edge of those fields. Chris has been a Venture Partner at Montage Ventures for 2 funds — in addition to his current role at Treasure8 — focused on disrupting retail, health & wellness, and consumer financial services.
When not meeting with clients, entrepreneurs and collaborators over a coffee, Chris lives in Woodside with his wife, Tamsinn, an artist and interior designer, and his two daughters. He is also a competitive cyclist and a Naish kitesurfing ambassador wherever he can find the wind to fill his sail.
Sample Topics

Design Thinking
Learn and explore contemporary design thinking approaches from the perspective of a pioneering practitioner of human-centered design from IDEO.
Future of Food Systems
Our current food systems are broken in the sense they have been optimized for production over nutrition. Explore new technologies, supply chain dynamics, and startups disrupting the food systems.
The Truth about Moonshots
Not all moonshots are created equal. Let's explore some key insights from launching moonshots on big, system challenges.
Strategic Workshops
Series of workshops which guide leadership teams through creating a future vision, pressure testing the dominant assumptions, and making strategic choices towards that new future.