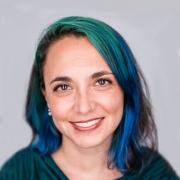 Tiffany Vora
Teleportec
Biotech | Convergence | Digital Biology | Disruptive Innovation | Ethics | Exponential Thinking | Facilitator | Future of Food | Governance / Policy | Health & Medicine | Human Longevity | Impact | Neuroscience | Sustainability Goals |
Dr. Tiffany Vora is a rousing speaker and thought leader who uses a bio- and tech-focused mindset to stimulate leaders, companies, and industries to design for the best possible future.
In addition to working as a founder and co-founder of several startups, she is currently the Vice Chair of Digital Biology and Medicine at Singularity University, in the heart of Silicon Valley. Previously, Tiffany was the Faculty Director of Singularity's global ecosystem of Experts and thought leaders.
After earning undergraduate degrees in Biology and Chemistry at New York University, Tiffany completed her PhD in the Department of Molecular Biology at Princeton University, where she worked in the emerging fields of genomics, systems biology, and computational biology. She later served as a Visiting Assistant Professor at the American University in Cairo, and as an Instructor for the Department of Bioengineering at Stanford University.
She has mentored startup founders, inspired companies to tackle humanity's grand challenges, and supported governments and other organizations to prepare for a radically different future of life on Earth (and elsewhere). Tiffany is particularly focused on nurturing, amplifying, and connecting women and people of color around the world—because diversity drives creativity and innovation.
Tiffany's expertise in biology and medicine encompasses fields as diverse as CRISPR, the microbiome, longevity, genetics, agriculture, climate change, space biology, biomimicry, and biohacking. Overall, Tiffany is passionate about translating the leading edge of science and medicine into actionable insights for individuals, companies, and society.
Sample Topics

Programming the Future of Life
Just as computers store information as strings of 0s and 1s, on Earth, living systems store information in DNA. By reading out this information, digital biology is revolutionizing human health and wellness, agriculture, environmental monitoring and remediation, biofuel production, and many other industries.
Gene editing technologies like CRISPR are rapidly revolutionizing how we precisely and permanently alter the DNA of living things—including humans. Catch up on this fast-moving field, and explore where gene editing could take us, in health, in agriculture, and in what it means to be human.
Exponential technologies are revolutionizing personalized and connected medicine, transforming diagnosis, therapy, medical discovery, and global health. These exciting breakthroughs are raising crucial ethical, moral, and regulatory questions that we need to address today.
Our bodies contain a personalized and dynamic ecosystem of bacteria, fungi, and viruses. This microbiome will underlie an explosion of personalized nutrition products and smart technology-enabled devices and apps that improve health and agriculture—on a global scale.
Big data, robotics, gene editing, and other technologies are bringing precision agriculture and personalized nutrition within reach. Get ready for big changes in where your food comes from, how it tastes, and how it impacts your health.
Advances in computing are accelerating technologies from AI to biotech to robotics and beyond, impacting everything from daily life to entire species. Transform your ideas about tomorrow and explore how to embrace opportunities while preparing for challenges. Are you ready to make the future?
The global average life expectancy has more than doubled in the last hundred years. What will the next hundred bring? What social and ethical challenges will we face as humans live ever longer? And what decisions can we make now to ensure that we live not just longer lives, but better ones?
SciFi: Designing Your Future
Science fiction is more than creative expression: it empowers you to dig into opportunities and roadblocks to possible futures. Embrace scifi to build a fun and safe environment for asking and potentially answering hard questions about the future(s).
Additional Topics:

Digital Biology: Programming The Future Of Life
Future Of Health Through Biotech Solution
Introduction to Exponential Thinking
Write Science Fiction To Design Your Future
Longevity: Hope, Hype, and Technology
The Microbiome: The Hidden Abundance Of You
Future of Food
Gene Editing The Future Of Medicine
Technology Breakthroughs For Humanity Longevity
Yes, Bacteria Can Help You Live Longer
Programming Life: An Innovation Activity
+ Various Hands-On Experiences and Workshops